In the recent period the trend of TV broadcasting is in continous evolution towards the Digital TV with the introduction of Digital Television Broadcasting.
Under "Digital TV" it is normally intended terrestrial or satellite broadcasting of a digital TV signal (DVB-T or DVB-S respectively).
Principal benefits and new features of Digital TV, compared with traditional analogue broadcasting:
On digital terrestrial transmitter up to 4 or 6 TV programs + additional services can be transmitted with single TV transmitter using single standard RF channel.

Spectral efficiency is also enhanced, through the use of Single Frequency Networks (SFNs).
The quality of each of theese programs is superior compared to the analog transmission.

Digital systems can be used for standard (better than analogue) or High Definition TV by appropriate allocation of bit rate capacity.

Resistance to the interferences of the digital signal is superior - image and sound without any interferences. The COFDM systems (DVB-T and ISDB) virtually eliminate multipath distortion and delayed image problems. This improves significantly reception in mountainous, urban and sea areas.
Data up to 2 Mb/s, can be transmitted simultaneously with the TV pictures. The data can be picture related (teletext) or it can be software or an Internet channel for home PC.

There is also the possibility of "interactive TV services" using MHP standard.
Featuring much lower radiated power for the same coverage compared with analogue transmission, DTT offers further enhancements to transmission when using the COFDM standards (the European DVB-T standard).

TYPICAL DIGITAL TV SYSTEM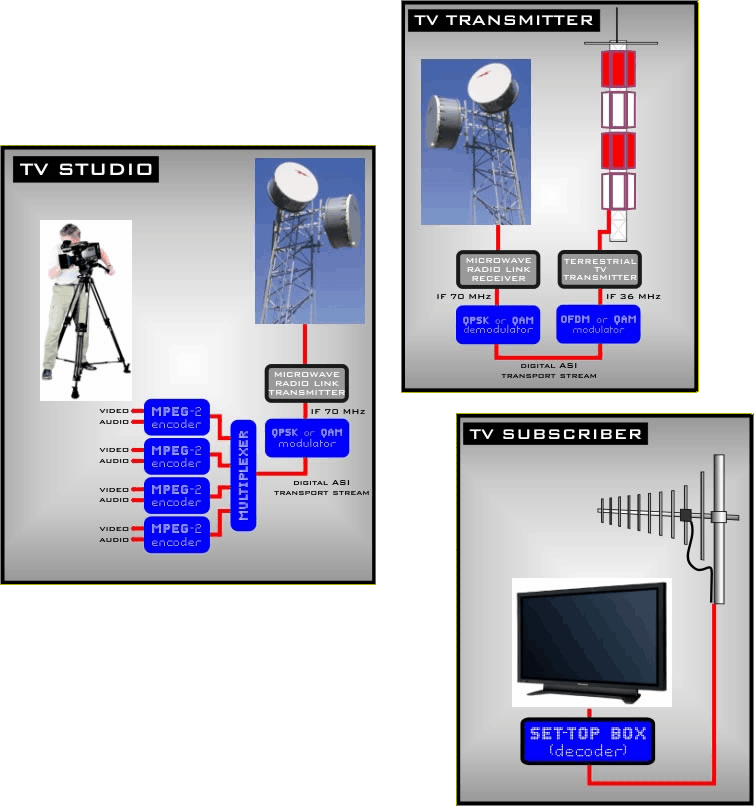 TV TRANSMITTERS
Tests with digitally modulated signals have shown that our transmitters can be easily implemented in versions for COFDM operation, as in the European DVB-T digital TV system.
The supply of our new digital terrestrial transmitters, and the upgrading of most existing analogue ones for DTT use, will therefore be a straightforward matter, involving the addition of a suitable digital modulator, low phase noise/high stability local oscillators, and the application of the required degree of linearity correction, with output filtering, to comply with MER (Modulation Error Rate) and band spectrum specifications.
The precision synthesised local oscillator system is also available, enabling a network of digital transmitters to be locked to the universal GPS standard, using an inexpensive receiver. This is especially suitable for SFN implementation.
MICROWAVE LINKS
We also deliver a very cost effective range of Microwave Links which can be adapted for either fixed or portable use at frequencies which range from 1.5 GHz to 24 GHz.
Digital Links for transporting digitally modulated signals; those using QPSK (Quadrature Phase Shift Keying) or QAM (Quadrature Amplitude Modulation), require a higher order of linearity than do conventional FM links. With QAM modulation particularly, the carrier can assume a potentially large number of phase and amplitude states, so the phase and amplitude linearity of the link transmitter and receiver are required to be of a higher order than for FM analogue links.
Also, excess phase noise prior to demodulation can give rise to an increase in the Bit Error Ratio (BER).
Summarising, the main differences of digital compared with analogue links:
Digital Modulator and Demodulator are required, suitable for the digital system to be used, to interface at IF 70 MHz;

A higher degree of phase and amplitude linearity is required in the RF part of the link system;

Lower phase noise, with better frequency stability, is required in both transmitter and receiver local oscillators;
We employ only linear Class A amplifiers in Link transmitters and receiver front ends. New series Links are available without limiters (which would introduce non linearity) and with high local oscillator performance.
Both fixed and portable links can be supplied with either digital or analogue modulators and demodulators. Because both types employ 70 MHz IF interface, customers can upgrade from analogue to digital at a later date, therefore an initial investment in a "new series" analogue Link system may be regarded as a future proof investment.
For more information about the equipment neccessary for the digital TV broadcasting you can also consult the following product pages: